Zandronum Expansion Pack
Does anyone remember the old Skulltag Expansion Pack that WastedYouth once posted on the forums? Well, this is it. All it does basicly.. adds more to your Zandronum Experience. How this Works, well Let me show you...
[spoiler=Playlists]Yes that's right. You can now have a bunch of playlists for your music Pleasure. If you ever played around with Playlists in say,.. Winamp, then this will be easy for you. Right now, the scripts are setup to support 4 playlists. All you have to do, is fill the playlists with some music. Now, I'm not sure if there is any other method to fill said playlists without Winamp, but if you already have it, good. If not, go ahead and get it, just Google winamp or go to winamp.com.
So next thing to do, go to Winamp, fill the playlist with songs you want, then Click on Manage Playlist, click on Save Playlist. The save to window will pop up. Navigate to where you installed the exp pack, and then to the playlists folder. Click on either playlist 1, 2, 3, or 4. You can have more, but this is just showing you how to fill up the playlist. Click ok, and it should be good to go.
Then start up Zandro, be sure to set up a key to control the playlist via Customize Controls, and let the magic happen. You can use any tracks that Winamp can play, be it mp3, ogg, or hell, even internet streams. Just be sure that winamp is able to play it. You will notice a slight delay in-game when switching to internet streams. This is normal.[/spoiler]
[spoiler=Volume Control]This is pretty flipping useful when you don't have an External source of controlling the volume. All this is really, is that it adds binds to Zandronum, which controls volume to Music, Sound, and the Announcer. (However, I think the Announcer and Sound is on the same thread, thus if you turn down sound, you also turn down the announcer....) So yea, just go to Customize Controls, and set a bind to each volume bind.[/spoiler]
[spoiler=Zoom]Yes that's right. Well technically, its FOV binds with a special Crosshair. As seen in this Screenshot...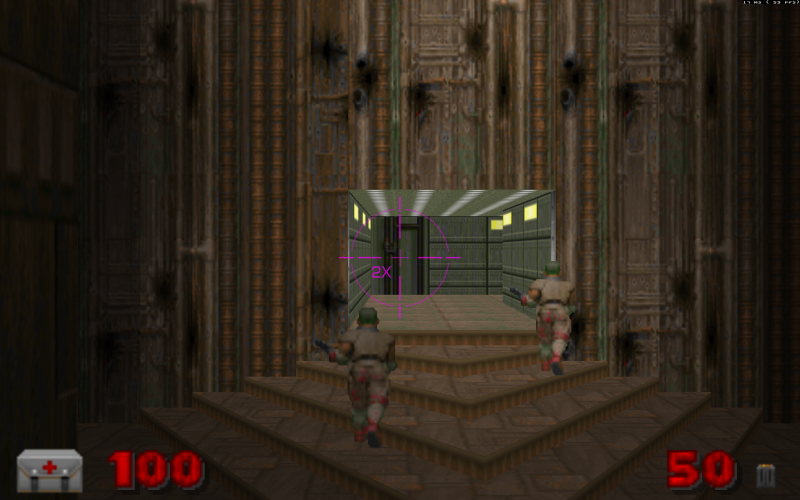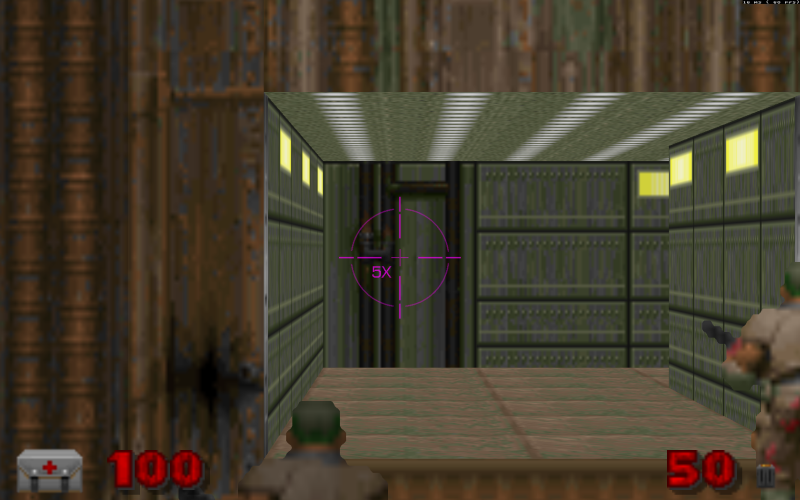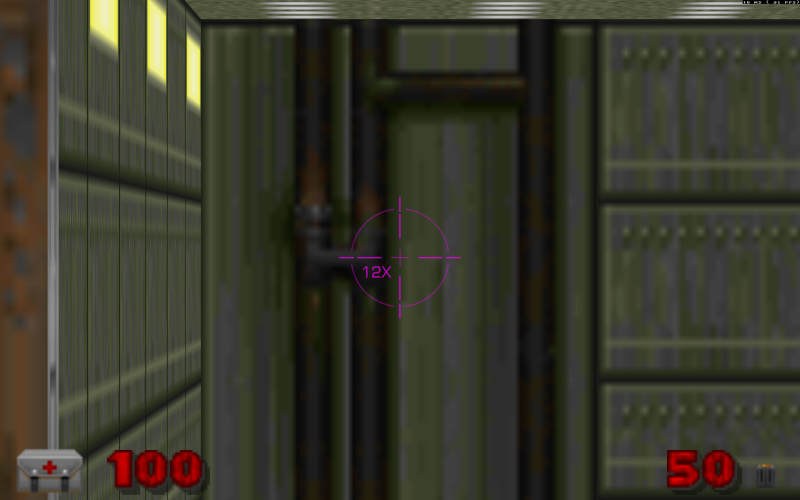 So yea.. just go to Customize Controls, and set a bind to either Zoom Hold, or Toggle. and your Set[/spoiler]
[spoiler=Other Stuff]There is 4 other Binds to talk about, Plus 2 Toggles that I added, to make life Simpler. First up is the Clean Screenshot bind.. All this does, is removes all the Hud stuff, and takes a screenshot, and replaces all hud things.
Second, is a simple Reconnect Button. This is when you need to reconnect really fast. I haven't used it in awhile, so no clue if it still works..
Third in line is, Save Config. All this does really is save your Crosshair, Screensize, Show Messages (usually toggled by F8), Mouse Yaw and Pitch, and plays a sound/displays Zandronum Settings Saved. No clue if there is a way to improve this, if you want, edit it if you wish.
Forth, but not least, Suicide Button. It's pretty obvious as to what this does. I usually have this bound to K.
The Toggles I added was CoopInfo and HudScale. Both are pretty obvious, and Yes I know there is a setting in the Options to Toggle CoopInfo, I just find this more convenient. Anyhow, CoopInfo just toggles off that Text you see at the left n right of your screen. HudScale just toggles the scaling of your hud. As for mine, its recommended to keep it at HudScale 1, but feel free to do whateva with it. Only took me merely 2 mins to type up and test it.[/spoiler]
******NOTE*****
Seeing as Medicris removed the Three Crosshairs used in this pack, they will not show if you put mXhairs into your /skins folder. So yea, don't worry about removing cross.wad from the pack, because mXhairs will overwrite them.
Well, that's about it Folks. Now for the Download Link(s). (Could someone add this to the main Zandronum Page?? Would be nice :p)
Old Zandronum Expansion Pack
Updated Zandronum Expansion Pack - 1.6
Zandronum Expansion Pack 1.7
Once you download the Zip, extract it to your Zandronum Folder. I tried to make an installer to this like WastedYouth did to the Skulltag Expansion pack, but for some odd reason, it would Add an uninstall.exe to it, thus overriding Zandronum's uninstall.exe.
Even though that would not be such a big deal, it will if you ever wanted to uninstall Zandronum.
EDIT: I just figured out that you don't really need Winamp to build up any of the 4 playlists. You just need a text editor. Should just follow this really >
M3U Wiki Link
From M3U wiki link wrote:If an m3u file is edited with a text editor, it must be saved in the Windows-1252 format. "m3u" files properly use the Latin-1 character set.[citation needed] The Unicode version of "m3u" is "m3u8", which uses UTF-8 Unicode characters.
Remember that
So basically its like this...
Code: Select all
#EXTM3U
#EXTINF:-1,The Band Perry - If I Die Young (Pop Mix) (181.fm - The Mix Channel (70s, 80s, 90s and Today's Best Music))
http://108.61.73.118:8032
#EXTINF:-1,Testament - Let Go Of My World (ChroniX Aggression - Loud & Clear - www.chronixradio.com)
http://173.192.45.18:10200
#EXTINF:-1,Sunday Show Replay - Hr 1 (PrisonPlanet.com) (Alex Jones - Infowars.com)
http://50.7.241.125:80
This is my Playlist 1. So have at it yo

UPDATE: Ok so I added a few more Binds that have to do with Playlist. Here they are..
Next Playlist Shuffled - This makes it to where it shuffles the songs on the Playlist. At this time, I do not know if there is a way to toggle Shuffle unless you start over the playlist with the original bind.
Show Current Song - This shows what Number is playing on the playlist, and the Title of the song.
Stop All Mus - This stops all music. You may need to hit the Playlist bind or do Changemus ## in console to resume music.
Also, I just noticed that I kept mxhairs in the pullin list, you can ignore that bit. I removed it in the updated Version.
Here is some good info on the playlist cmds in Zdoom
Aenima from another post wrote:playlist <playlist.m3u> [shuffle|position]
Loads a WinAmp .m3u playlist. Any music that would normally be played will be ignored, and the songs in the playlist will be played instead. If you add the word shuffle after the name of the .m3u file, the playlist will be replayed in a random order. In place of shuffle, you can also specify position, a number corresponding to the song number in the playlist you want to play first.

playlistnext
Plays the next song in the playlist.

playlistpos <position>
Starts playing the song at the specified position in the playlist.

playlistprev
Plays the previous song in the playlist.

playliststatus
Displays the number of songs in the playlist and the currently playing song.

stopmus
Stops playing the current song.

Even though this info is already on the
Zdoom Wiki
UPDATE 2: Fixed a typo in the autoexec and moved Menus.cfg to Menus2.wad as it seems that Autoloading .cfg files with addkeysection and stuff no longer works in newer GZDoom versions. This applies to Zan 3.0. so yea.. that's about it.