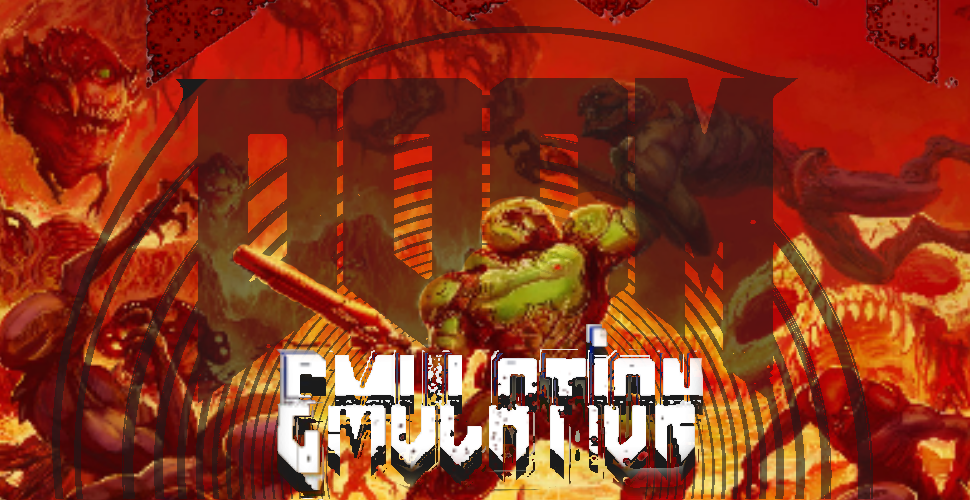 Created by Doomero, Alphaent and, SAHZALPBAEL
Zandronum 3.0 required to play.
http://www.moddb.com/mods/doom4-emulation
Project Background:
Harken back to the days of other in game weapon re-placers. Yes this is it, you can now play any of your favorite maps with doom 4 weapons and ability's.
Content:
This pk3 contains everything you could need to kick some demon ass and much more. This mod comes with painstakingly made sprites for weapons. You'll have the full array of weaponry and you can play as all of the monsters in game plus all new power-ups. A separate mod comes with the main mod including over 100 monsters from custom made enemies to most of all the enemies you could fight in the iwad games. Such as Doom(of course), Heretic, Hexen, Wolfenstein, Strife and custom enemies. The way this feels with zandronum is just almost perfect in a way. The mod implements a new feature for zandronum 3.0 which is tracers for your bullets. The game play value just skyrockets for me combined with what we already have, when i see bullets fly out of a doom 4 super shotgun like that. As well as all of the weapon sounds in game were changed. Lets move on to some detail about the new weapons in game shall we?
Doom(4) Emulation Weaponry
Fist: You can now punch while holding a weapon, very good damage against imps, zombies, low level monsters.
Chainsaw: Damage feels buffed on the new chainsaw, Nice design of course.
Pistol: A recoil that makes firing the pistol much more enjoyable, same damage as the default pistol, kinda bland firing animation still looks nice though.
Combat Shotgun: Fires and cocks just like the default shotgun, the damage feels a little bit bumped up on this shotgun, good firing sprites.
Super Shotgun: A scatter gun capable of ripping a caco-demon in half in one hit, feels like the same damage as the default, very nice weapon in game, very sleek design.
Repeater Rifle: Damage feels like if you had a burst fire default pistol, design is kinda rough on this one not too bad though.
Chain gun: Huge damage, fires much faster then the default, just a great weapon overall
Rocket launcher: A valve reloads the rocket back into the chamber every time you shoot one just like the game, Nice reloading sprites and nice design, the look and feel of this is much easier to get accustomed too besides the default rocket launcher.
Plasma Rifle: Same Damage as the default not much to say about this one besides it looks good of course.
Vortex Rifle: Shoots a swirling plasma round just like the rail gun, same damage as the rail gun has a firing delay but still very strong.
Static Cannon: fires a shot similar looking to the vortex but a red color, a larger damage then the vortex rifle, can multi-fire fast but has a 3 shot delay time of 5 seconds.
Gauss Cannon: Fires a rocket plasma projectile, about the damage of a cyber demon rocket, great look and feel.
BFG: I felt the damage of this bfg had dropped a lot compared to the default bfg, fires a highly packed concentration of plasma at your enemies, very nice design.
Multiplayer
Now the authors of this mod did make a multiplayer pk3 for zandronum. I would honestly not recommend playing with this online yet. The sounds are missing which i don't know why that is so, you're stuck with default sounds. The mechanics such as damage are really messed up at this point melees wont even kill a imp in 3 hits. In my opinion i would wait till 3.0 has been released for multiplayer use.
Rating:
Fun Factor - 9/10 - Just a ton of fun overall played with your favorite map pack and the extra monsters pk3 can be hours of entertainment.
Balance - 6/10 - The custom monsters can be a bit unbalanced at times but you'll get the hang of it.
Creativity - 5/10 - As the game idea was taken from another game i cant see too much in it but the sprites were made by the authors for the weapons.
Replay Value - 8/10 - You could definitely play this a lot if you like the doom 4 guns and had a good map pack to play.
8.5/10 Would definitely recommend this mod.