Ivan wrote:

Afrit wrote:something something

[spoiler]

[/spoiler]

What a DnD ripoff. Reported for stealing.
Reporting for stealing overwatch.
---
Peanut

wrote:

↑

Wed Sep 20, 2017 7:47 pm

What I have so far on the Heretic DM thingy, just to hold up my end. Gonna have to click. Sorry.

Spoiler: E1M1: Ice Grotto remake. Layout is finished. Still needs item placement and more details in some areas. (Open)

Spoiler: E1M9: Cave thingy. Same as e1m1. Layout is finished, just needs minor touches. (Open)
Nice, dude!
­ ­
­ ­ ­ ­ ­ ­ ­ ­ ­ ­ ­ ­ ­ ­ ­ ­ ­
Doom64: Unabsolved: Doom64 and Diablo2 had a baby
ZandroSkins
: a pack made by our community
Squad Radio
: a WASD-powered chat menu, add your own sounds
AeniPuffs
: neat blood and puff effects
---
---
 
Posts: 31
Joined: Thu Jun 26, 2014 5:55 pm
---
---
---
Very good. Please speak to MadCat, because a lot of his work aligns with yours.
P.S. I hope you can release a small simple base wad that contains functionality for the client/server/character/xp/level system, that people can use to create an xp-based multiplayer mod. It would be nice to see more modders build more character/xp/level mods, and that base wad can help them get started.
---
Cool. I probably won't play it, but looks like you're doing good work there though.
What I noticed/felt though is that perhaps you would be interested in collaborating on the development of a 2d top-down platform gunner game. e.g. Raiden. I remember MadCat doing an proto-type of this gameplay already, based on the game: Raptor: Call of the Shadows.
---
Got bored and decided to open up Albertoni's Idle doom to see how much more grindy I can make it, probably won't release this publicly seeming as it's not my mod nor do I have the author's permission to post the mod but I've made such additions such as adding in 2 more purchasable towers, a new monster limiter which you can purchase to increase the amount of monsters on the map, starting monsters is 5, 4 more monsters to buy, 1 extra map just because I needed a change of scenery which you can probably identify the one I've used as a base to build on, even improved the script so there's not so many script numbers.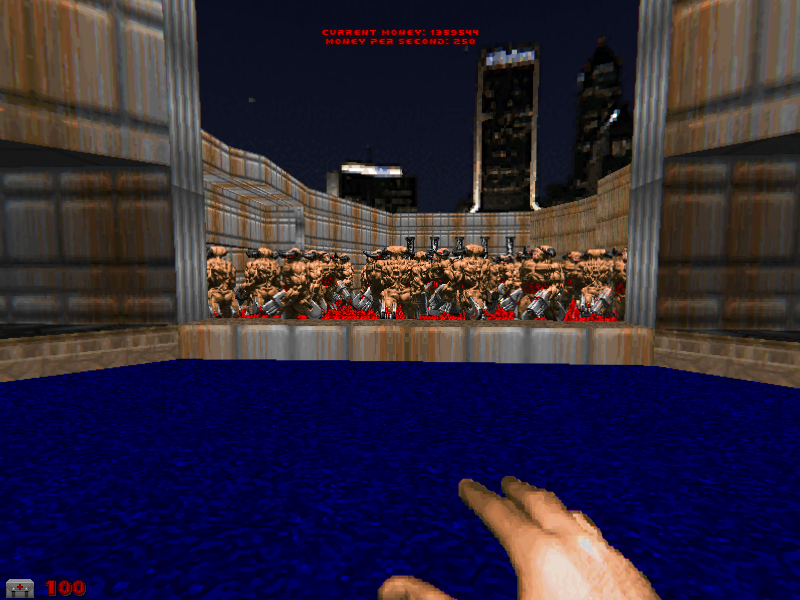 ---
---
Addicted to Zandronum
Posts: 1628
Joined: Tue Jun 05, 2012 9:32 pm
Location: Somewhere, over the rainbow
Contact:
Well, If you are making a mod, you're already wasting your time anyway, playing a game either...
Unless in those cases you manage to get some Money from what you did.
So unless there's some copyright somewhere under zandronum that forbid people from making mods based on other games... But that's not the case so moving on...


---