Looking around I saw no skin installation tutorials so let's make one for the newcomers. Sorry I'm putting this here since it relates almost exclusively to skins and there are no tutorial sections.
For those completely new to zandronum or have no real clue about what is inside the folder, there is a folder (that may or may not be hidden) called 'skins'. Inside this 'skins' folder is a list of included standard skulltag/zandronum skins which Zandro.exe reads and loads everytime it is booted up. What some may not know is the fact that storing additional skin files (wads or pk3s) will allow Zandro to load these new skins on just about every single server out there excluding servers that use class based wads or wads that show multiple player sprites holding different weapons. This process allows players hosting servers on IRC based hosting services to not have to include 6 different skin wads forcing everyone to download everyone of them and then force people joining to have to use them (unless they have skins turned completely off). Today we will go about learning how to install and utilize skins.
Step 1:
First thing is first, let's make sure windows/mac will show hidden files;
Spoiler: For Windows users (Open)
Spoiler: For Mac Users (Open)
If a 'skins' folder is not seen in the Zandronum folder after these steps, simply creating one will have the same properties. A 'skins' folder is only acquired through Zandronum's installer and not the core zip.
Step 2:
Getting wads into 'Skins'
Now that hidden files will be shown head into the Zandronum folder (don't know where it is? search for it in the search bar). Inside it should be shown that the 'skins' folder is now present like this: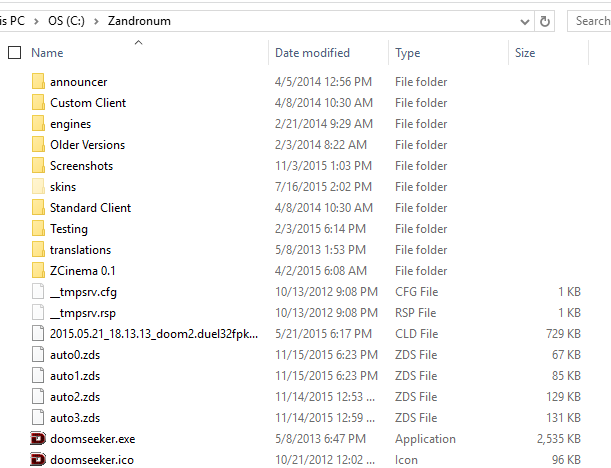 From here we go into the 'skins' folder and there should be a bunch of wads located here, these are all the aforementioned standard included wads. It's in this folder that adding specific wads will be properly loaded into Zandronum, I will use my own 'skins' folder as an example:
my skin folder is a bit bare as I deleted all of the previous skulltag skins.
BOXSKIN2.wad, PostalDude.wad and TouretteSkin2 are all player model skin wads, these can be selected and used using player setup while in Zandronum.
huddisplay712.wad is a 'skin overlay' which basically just replaces all my guns with custom ones and gives a new crosshair along with a different hud.
ultimate-music.wad is a music replacement wad specifically designed for a wad that no longer exists, but other wads that are meant for music and to be replaced over current tracks (like for doom 2 or doom 1 respectively) can be put in this folder as well.
zvox2st.wad is an announcer wad for Zandronum ctf servers.
With that there is essentially nothing more to the steps, at this point just drag and drop wads into here and they should work on zandronum servers. As for the remainder of this tutorial I will explain when and where some wads will not be effective or just won't work with some wads.
Problems and Troubleshooting:
In layman's terms all wads that are in the 'skins' folder are considered "optional", in that they only fill specific files that are not currently occupied by the server's main file. By this I mean a server running a weapon mod or a wad that has it's own weapon skin will override whatever custom skin that was loaded via 'skins' folder. In a more detailed description; if the current wad (or pk3) has the classic shotgun pumping frame without that frame's name changed, the custom skin will instead be shown for that one particular frame. This can be very distracting and ugly if playing with a wad like 'beautiful doom', so best to keep this in mind. Same goes for the music file except that is a bit less complicated. With the same rules as the skin overlay, a music wad cannot overwrite already loaded music from the server's wad(s).
It goes without saying
normally
, but including 2 wads with similar lump names can cause some visual issues so best to add one wad at a time and test to make sure everything runs smoothly. Nothing exactly game breaking, but 2 wads with coinciding lump names may cause some textures to appear wrong and or sprites. This method with the skins folder is also viable with old time Skulltag users if anyone is still interested in classic Skulltag gameplay.
I hope others stumble onto this thread and whatever is here will help those who do not know tricks to Zandronum. Playing with skins is a lot of fun and not being chained primarily to a single server specifically to play with skins is a more relieving experience to enjoying a 20 year old game.